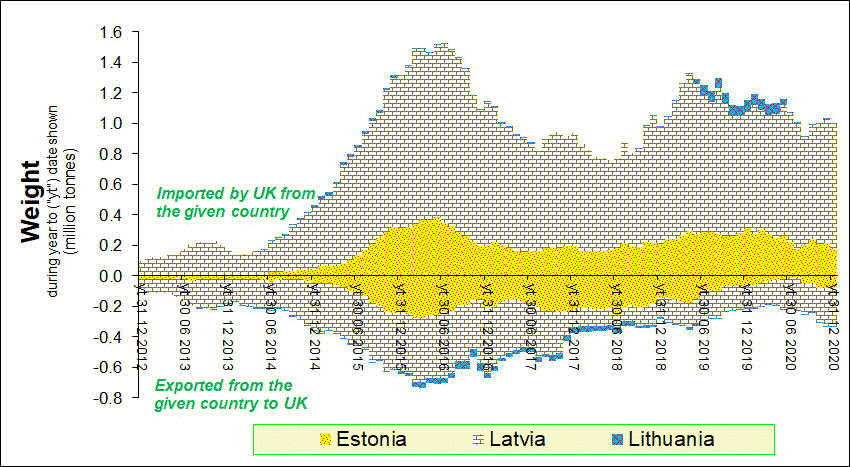 Trade in pellets from the Baltic States to the UK
Source: based on Eurostat (CN8, monthly, code 44013100)
Remarks: the discrepancies might be attributable to re-exports (pellets from other countries exported through Estonia and Latvia)

Estonia's exports of pellets, wood fuel, chips and wood residues
Source: based on Eurostat (CN8, monthly, codes 440131, 44011*, 44012*, other 4401*) to 31 07 2023
Remarks: Ørsted's Asnæs CHP station started burning chips during 2020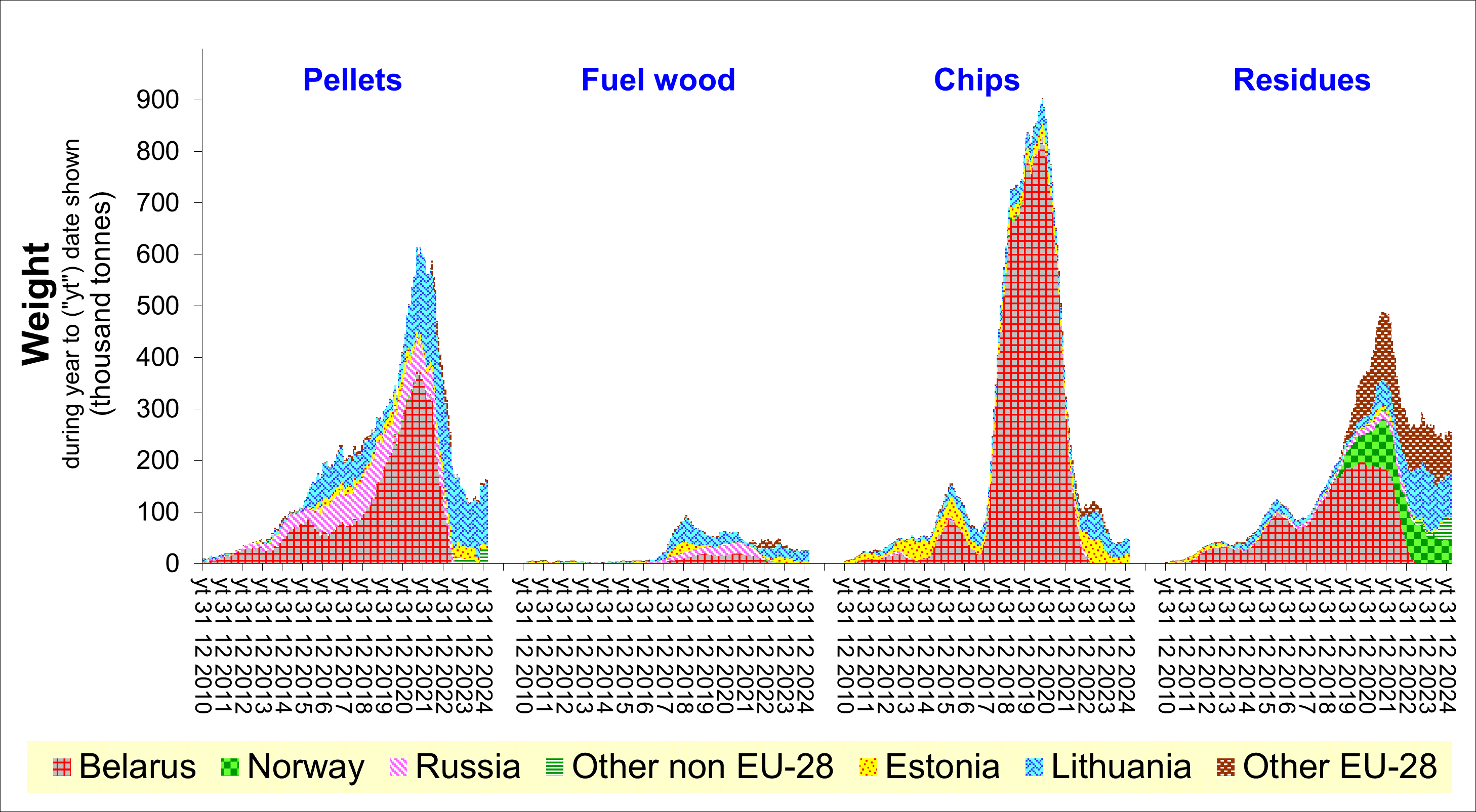 Latvia's exports of pellets, wood fuel, chips and wood residues
Source: based on Eurostat (CN8, monthly, codes 440131, 44011*, 44012*, other 4401*) to 31 12 2022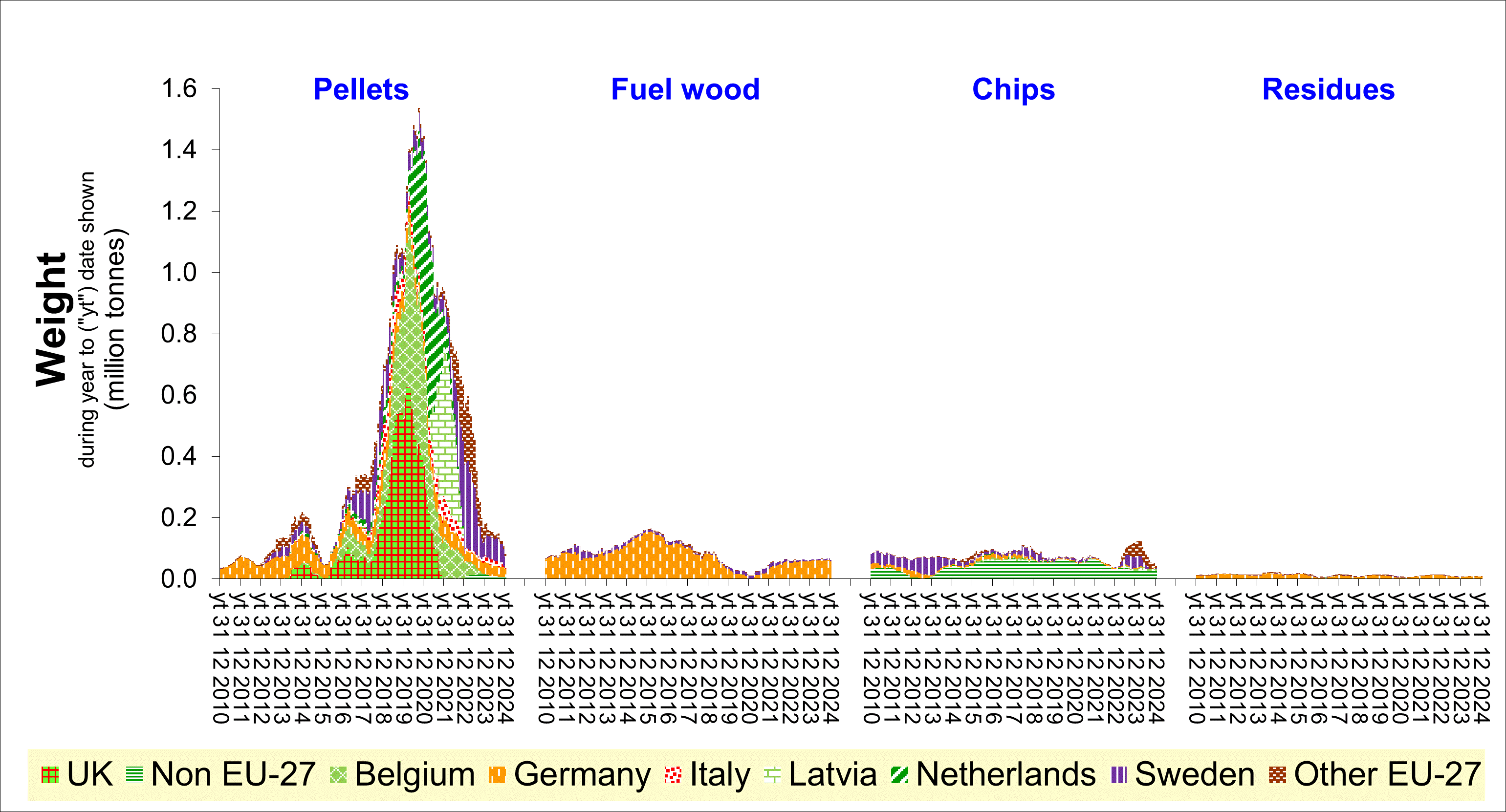 Denmark's exports of pellets, wood fuel, chips and wood residues
Source: based on Eurostat (CN8, monthly, codes 440131, 44011*, 44012*, other 4401*) to 30 06 2023
Remarks: the great majority of the pellets reported as exports by Denmark are not reported are probably re-exports, not least because the leading destination countries for those pellets report negligble quantities of pellets as imports from Denmark.

Wood pellets
One of the EU's leading suppliers of wood pellets has recently been declared bankrupt and there are allegations that its interests in pellet manufacturing in the USA were fraudulent.[
-
] The group's bankruptcy jeopardised proposals to convert the Langerloo power station (in Belgium) to use biomass fuel (which has now ceased burning coal[
-
] until that power station was acquired by Graanul Invest (based in Estonia), which claims to be the biggest producer of wood pellets in Europe.[
-
] There is little public information about the ownership and financing of the group. The group indicates that its pellets derive from the by-products of saw mills in Estonia, Latvia and Lithuania.[
-
]
The discrepancy between the weight of pellets exported to the UK from Latvia and the weight of pellets imported by the UK from Latvia is sufficiently large and persistent to warrant explanation by Drax and the SBP (which, being largely controlled by Drax and major electricity generating companies, has a clear conflict of interest as a scheme which certifies its owners supplies of pellets). The discrepancy also warrants liason between the customs services of Latvia and the UK, and their compatriots in Competent Authorities under the EU's "Timber Regulation" (given that fraud might be a leading explanation). None of the Baltic States imports substantial quantities of wood pellets from Russia and/or Belarus.
One of the power stations which have been awarded large subsidies from the UK government[
Slide 6
] has yet to be built. Its main contractor[-][
-
] is currently subject to bankruptcy proceedings[
-
] This will presumably delay
[-
] not only the project's financial close[
-]
[
-
], but also the commencement of construction (now expected Q2 2017
[-
]). The contractor's bankruptcy would have jeopardises the proposed construction of a 215MW power station in Belgium, but a replacement contractor has been appointed.[
-
][
-
].
The sole supplier of wood pellets to that power station[
search term MGT
] would seem to be linked to an enterprise against which a formal complaint has been made to the USA's Securities and Exchange Commission[
-
]. That complaint alleges misrepresentation of evidence provided to investors.
According to a
statement
by its developer, greenhouse gas emissions of the Teesside power station are capped at a level roughly five times less than those of a coal-fired power station of the same capacity. This is so unlikely that investors and officials should question why that statement has been made. Given that the power station's fuel, wood (in the form of pellets and/or chips) emits at least as much CO2 on combustion as coal per unit of calorific value, such a cap on its emissions would implicitly cap the power station's output, in turn capping the power station's potential revenue to roughly five times less than if it were coal-fired.
The developer also states that the power station will save a substantial quantity of CO2 during its life,[
-
] as does its financial adivser
[footnote ii
]. However, power stations do not sequester CO2 and sustaining cheap electricity supplies tends to promote consumption (- typically and for the time being, of products having a signigificant greenhouse gas footprint). Further, as is the convention amongst those who promote the generation of electricity from biomass, that purported saving assumes that biomass burned in power stations does not emit CO2.
The requirement that its wood fuel will derive from sources which are sustainably managed will severely constrain the supply of that fuel. Very little woodland in south eastern USA is certified as being sustainably managed. Given that the structure of woodland ownership is highly fragmented and given that owners are subject to minimal regulation - particularly in relation to sustaining the nature of that land - there is little assurance that certified woodland will remain eligible (and there is a risk that if that woodland is not already a plantation, it will be cleared in order to become one, fundamentally changing the nature of that land).
Suggested reading:
"Burning wood from Southern US forests to generate electricity in Europe"
(letter from US Scientists to the EC 08 2013)
"Forest Bionergy for Europe - What science can tell us" EFI (2014)
"Review of literature on biogenic carbon and life cycle assessment of forest bioenergy" Forest research (05 2014)
"State of play on the sustainability of solid and gaseous biomass used for electricity, heating and cooling in the EU" EC (2014)
"Carbon Emissions and Climate Change Disclosure by the Wood Pellet Industry – A Report to the SEC on Enviva Partners LP" Partnership for Policy Integrity and Dogwood Alliance (03 2016)
"Woody Biomass for Power and Heat: Impacts on the Global Climate" D Brack for Chatham House (02 2017)